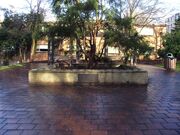 This is a small neighborhood park on Boylston St. between Republican and Mercer, 2 blocks west of Broadway. It honors the sister city of Tashkent, Uzbekistan (part of the Soviet Union when the park was built in 1974). The sister relationship, established a year earlier, was the first one between an American city and a Soviet one.
Known by locals as Trashcan Park, there are a few picnic benches, some grass and free WiFi.
External Links
Edit
This article is still a stub and needs more content.
Please contribute if you can.
Ad blocker interference detected!
Wikia is a free-to-use site that makes money from advertising. We have a modified experience for viewers using ad blockers

Wikia is not accessible if you've made further modifications. Remove the custom ad blocker rule(s) and the page will load as expected.