The Space Needle was the centerpiece of the 1962 World's Fair. Built on a 100'x100' parcel of land, it was then the highest building in the city (indeed, the entire West Coast), providing excellent views and dining from the top. The rotating restaurant was so perfectly balanced that it requires only a one-horsepower motor to turn it. The height is around 605 feet. lol its tall huh.
This article is still a stub and needs more content.
Please contribute if you can.
External links
Edit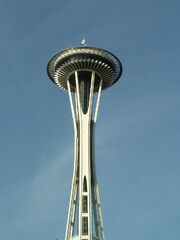 Ad blocker interference detected!
Wikia is a free-to-use site that makes money from advertising. We have a modified experience for viewers using ad blockers

Wikia is not accessible if you've made further modifications. Remove the custom ad blocker rule(s) and the page will load as expected.