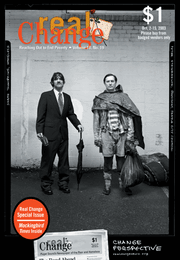 Real Change is a weekly Seattle-area activist publication, with a new issue out every Wednesday. It is sold by poor and homeless people in Seattle who keep 65 cents of every dollar paid. The paper focuses on issues that affect the homeless, articles on social issues like discrimination and equal oportunity, and local news and opinion.
Real Change is published by the Real Change Homeless Empowerment Project, a non-profit organization.
External links
Edit
Ad blocker interference detected!
Wikia is a free-to-use site that makes money from advertising. We have a modified experience for viewers using ad blockers

Wikia is not accessible if you've made further modifications. Remove the custom ad blocker rule(s) and the page will load as expected.