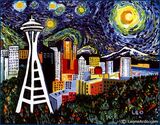 Leone Ardo (born August 30, 1943) is the founder of the famous Bekka Mt St Helens Ash Sculpture company. She hand sculpted over 400 designs and the company reproduced and sold 100's of them every day for close to 20 years.
Many of her sculptures sold through Seattle's Pike Place Market where she still works today as a popular painter.
External links
Edit
Ad blocker interference detected!
Wikia is a free-to-use site that makes money from advertising. We have a modified experience for viewers using ad blockers

Wikia is not accessible if you've made further modifications. Remove the custom ad blocker rule(s) and the page will load as expected.