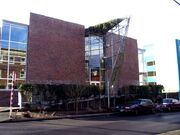 The Capitol Hill Branch of the Seattle Public Library system is located at 425 Harvard Ave E. (the corner of Harvard Ave E & E Republican Street). The library's phone number is: 206-684-4715. You can get to this library on Metro Transit routes 9, 49, and 60.
Library Hours
Edit
Monday: 1:00 PM - 8:00 PM
Tuesday: 1:00 PM - 8:00 PM
Wednesday: 10:00 AM - 8:00 PM
Thursday: 10:00 AM - 8:00 PM
Friday: 10:00 AM - 6:00 PM
Saturday: 10:00 AM - 6:00 PM
Sunday: 12:00 Noon - 5:00 PM
Features
Edit
Capacity for 40,200 books and materials
20 computers for public use
Underground parking
Community meeting room with a maximum occupancy of 75 persons
The Capitol Hill Branch opened on May 31, 2003. It was the fourth project completed under the 1998 Libraries for All building program. It replaced the Henry Branch library, at the same location.
Ad blocker interference detected!
Wikia is a free-to-use site that makes money from advertising. We have a modified experience for viewers using ad blockers

Wikia is not accessible if you've made further modifications. Remove the custom ad blocker rule(s) and the page will load as expected.