Tenacity Sports hosted Men's 5-on-5 full court basketball (8/18-8/19)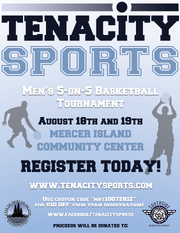 Looking for a chance to play some hoops with friendly competition, high quality facilities and knowledgeable officials? Join us for a one weekend tournament held on Mercer Island!
About The Tournament

Edit
Format:

Men's / 5-on-5 / full court

Game Days:

Saturday (8/18/12) and Sunday (8/19/12)

Start Times:

10:00 AM - 3:00 PM

Number of Games:

2 guaranteed

Registration Deadline:

8/10/12
For more information please visit:
http://www.tenacitysports.com/events/14
here!
Ad blocker interference detected!
Wikia is a free-to-use site that makes money from advertising. We have a modified experience for viewers using ad blockers

Wikia is not accessible if you've made further modifications. Remove the custom ad blocker rule(s) and the page will load as expected.